QuarkNet is a national collaborative project among physicists, high school students, and high school teachers, supported by the National Science Foundation. Penn has been participating in the QuarkNet program since 2000.

For the past few years the Penn QuarkNet program has involved a small team of high school students and one or two teachers working on a project to detect and measure cosmic rays (our low cost accelerator alternative). The QuarkNet program is full time for about six weeks – end of June to the beginning of August each year. Project work is interspersed with talks by Penn faculty and staff on physics topics.  If all goes well, we will take a one day field trip to Brookhaven National Laboratory on Long Island to see some examples of large particle and nuclear physics experiments.
QuarkNet 2018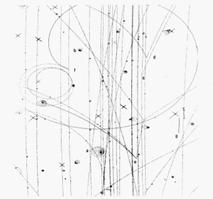 The Players: We are looking for four talented rising high school juniors or seniors from the greater Philadelphia area interested in physics or engineering to work alongside teachers and physicists on research projects exploring the hidden nature of matter, energy, space and time.

The Big Questions: WWhat are the origins of mass? Can we come up with a unified theory, which explains the basic forces of nature and how they are related? How did the universe begin and evolve?
The Research: Students will learn how laboratory experiments are designed and how scientists try to answer these big questions. Students will design, construct and use a multiple-plane array of gas-filled ionization detectors for the identification and measurement of cosmic ray tracks. They will use Verilog, a hardware descriptor language (HDL) for designing electronic systems (Field Programmable Gate Arrays) used for data acquisition. They will work with scintillators, oscilloscopes and other electronic instruments, compile and organize data, and write programs to analyze these. They will attend seminars on current methods and experimental work in High Energy Physics, Astrophysics, and Condensed Matter Physics; work with researchers in ongoing projects in High Energy Physics at Penn; present a summary of their work.


Application
The Application: The Application: Candidates should be interested in a career in science or engineering and have some practical experience in building projects. They should be ready for detailed laboratory work. While not required, experience in computer programming, electronics, and data analysis is a plus. Students should be available for the entire six-week program, June 25th to August 3rd.

Interested students must submit the following:
Application form (from www.hep.upenn.edu under the QuarkNet tab)
A four hundred word essay on, "My reasons for wanting to participate in the Penn summer high energy physics QuarkNet program"
A letter of recommendation from a school instructor.
Each student researcher will receive a modest weekly stipend.  We expect students to commute.
Deadline for applications is April 15th, 2018.

Submit all three parts by mail or electronically to:   or
Mitch Newcomer        mitch@hep.upenn.edu

University of Pennsylvania
Department of Physics & Astronomy
209 South 33rd St. Philadelphia, PA 19104
You should receive an electronic acknowledgment of receipt of each of the three parts of the application within a day or so – if not, enquire energetically!